Your one-stop shop for high quality single domain Antibodies
We provide flexible custom projects for the development of single domain antibody panels which are tailor made for each customer.
The services provided can include llama immunization, construction of phage-display libraries, custom-tailored panning and selection procedures to find the VHH with the desired epitope, specificity and stability. These projects end with IP free delivery of sequences of at least 6 VHH as protein and as cDNA expression construct. Our standard projects are shown including timelines in the figure below. Or you can use the additional services QVQ provides to deliver production of higher quantities of VHH in yeast. The knowledge build up within QVQ over the last ten years can be used to optimize the VHH even further concerning stability, production levels and humanization.
Standard lead development project
A full project including immunization, library construction, panning and delivery of clones can be performed within 3-4 months.

The tailor-made VHH-development projects on inquiry can include the following building blocks:
Design and implementation of an immunization protocol in llama.
Determination of immune responses in the sera.
Cloning of VHH-repertoires in phage-display libraries
Panning for the desired epitope and specificity
Picking of masterplates with monoclonal VHH
Production in 96 wells format
Screening for binding in ELISA
Sequence analysis and annotation of clusters
Delivery of different VHHs (sequence and >0.5 mg protein).
The building blocks of the services of QVQ
We provide flexible custom projects which are tailor made for each customer based on our broad range of standard services. Services include llama immunization, construction of phage-display libraries, custom-tailored selection procedures, production of VHH, plain or equipped with different tags in bacteria and upscaling of production in yeast towards translation to GMP production in collaboration with Orthros TR BV.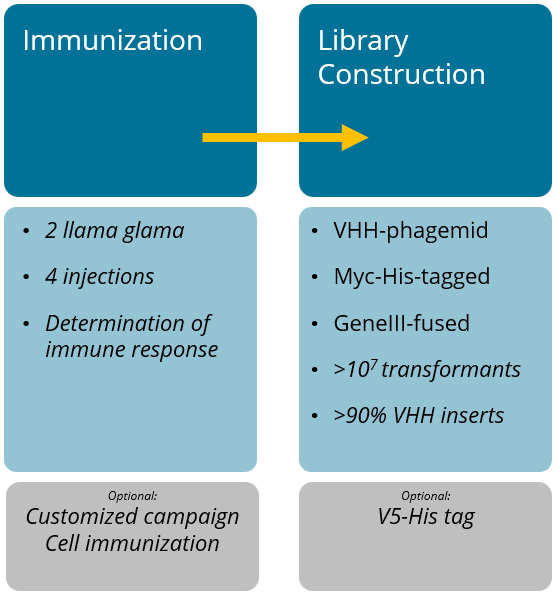 Immunization and library construction
Immunizations of llamas are done in collaboration with Kaneka Eurogentec, Preclinics and Diaclone. Immunization strategies include the combination of several different antigens in the same animals and we can use recombinant proteins, cells, and other complex antigens. All immunizations are conducted according to the applicable animal welfare act at place and reviewed by the animal experiment commission of the company. The high quality libraries have on average a size of 10e8 different VHH.
Phage display selection and screening
QVQ always proposes a phage display-selection strategy that, based on own experience and available tools, should result in the selection of the desired target binders. Such a strategy is carefully designed to include customer's requests and wishes. Importantly, the prospective final application of the VHHs are already taken into consideration while determining the phage display-selection strategy.
The expertise of the QVQ team can be used to select for agonistic, antagonistic VHH, or VHHs targeting preferred epitopes, have high stability or high specificity.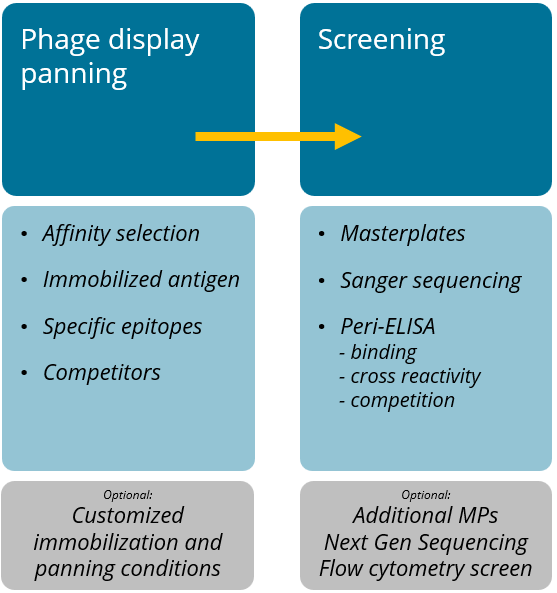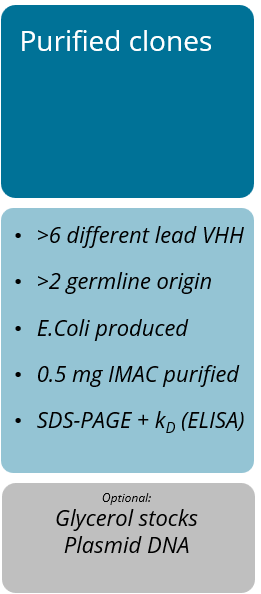 Production and delivery
After phage-display selections, individual VHH clones will be characterized for binding and competition using available tools . Moreover, sequences of the different VHHs will be determined. QVQ will select a lead panel of 6 VHHs based on a combination of binding data, sequence data and, if available, functional data obtained by the customer. These lead-candidate VHHs will be produced and purified from the periplasm of Escherichia coli using IMAC.
QVQ provides a detailed report describing all the above mentioned steps and data, along with purified VHH protein of the 6 lead clones (0,5 mg of each).
Optional Customization Services
QVQ can also deliver larger quantities of VHH for their prospective use in for example (co-)crystallization or in vivo experiments. In addition, QVQ offers directional labeling of VHHs and the opportunity to produce VHHs in yeast according to GMP conditions, which allows for rapid clinical translation.
Large scale production and purification
Custom production of existing VHH
Fermentation
Custom VHH Labeling
Optimization for stability
Humanization
NGS sequencing
FACS analysis
SPR characterization
For more detailed info please visit our technology page